FRENCH CASTLE BED AND BREAKFAST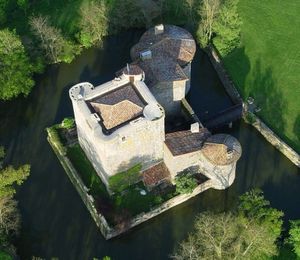 Set in the heart of historic Poitou and entirely surrounded by water, Chateau deTennessus is a stunning, fully restored, medieval castle B&B where time stands still, and only the plumbing is comfortingly modern! 
"What a fantastic castle, so quiet and a wonderful place to unwind. A very warm welcome but privacy respected and very nice company. Looking forward to our next visit."
Pam and Allan 2012
SPECIAL OFFER FOR 2016:
20€ off for all 2 night stays (Except Family Fun Weekend Break)!!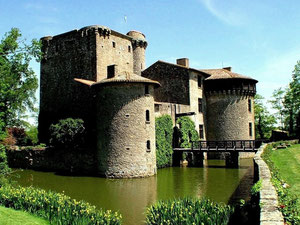 Built over 600 years ago (supposedly to keep out the English!) and dominated by an imposing rectangular keep (housing three enormous B&B rooms), Tennessus castle is totally authentic, with original stone spiral staircases, arrow slits, hoardings, bare stone walls and a working drawbridge!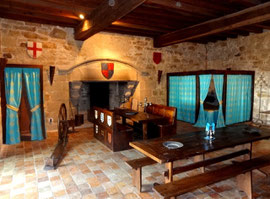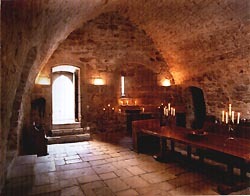 A full continental breakfast is served at a huge refectory table in the massive vaulted  entrance chamber ("La Salle de Gardes") with its 2 metre thick walls and 2 metre high wrought iron torches!
English breakfasts can be specially ordered (supplement 20 euros per couple).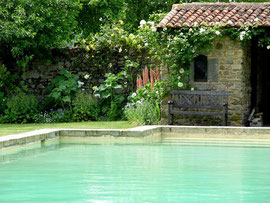 - Row around the castle,
- Fish in the moat,
- Plunge into the pool,
- Stroll through the period potager... or simply
- Relax in one of our 5 extraordinary bedrooms, and forget you ever had a mobile phone!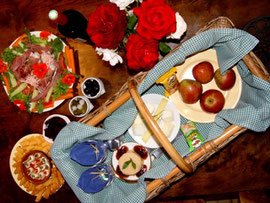 - Sample homemade cakes,
- Enjoy an unmatchable array of homemade jams and fruit purees,
- order our made to measure Gourmet Picnic Basket.
-  Now on stream ....... Tennessus eggs!
BOOKING
SPECIAL OFFER FOR 2018:
20€ off for all 2 night stays (Except Family Fun Weekend Break)!!
THE TENNESSUS EXPERIENCE
"We really felt like Lords, Ladies and Knights. Your castle is truly magical as was our experience here." Rosemary, jeff, Meranda, Jacob and Thomas Venos
Tennessus in photo
"Magnificent chateau, beautiful rooms and a delicious breakfast. What more could we want!" Audrey and Simon Bate
"Thank you for those amazing 2 nights. We loved  the castle! Its the most amazing place we ever stayed in!" Jacqueline, Jim and Callie Keegan
THINGS TO DO
At the castle:
Boating, fishing,swimming, badminton ,croquet,ping pong,hikes
Nearby:
Medieval Parthenay,historic villages with churches(Saint Loup  Airvault, Saint Jouin de Marnes),Golf, riding, windsurfing.
Further afield:
The Futuroscope - Futuristic theme park (1 hr), Puy du Fou - historic theme park (1 hr), ballooning (1hr). the seaside (1.5 hrs), the Loire Valley and its castles (1hr-2hrs). Treetop assault course (45mins).
YOUR STAY
Children (minimum age, 6 years)
Children
For security reasons, we do not accept children or babies under the age of 6.