BEST of British ...and French!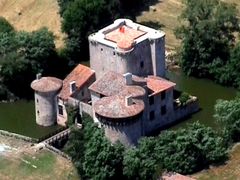 English owned, but surrounded by excellent french restaurants, XIV century Chateau de Tennessus is just the place to enjoy the best of both French and English cooking.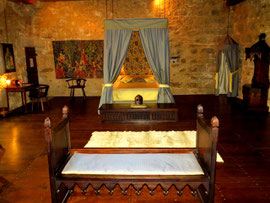 Fully restored in true medieval style, the vast period rooms ,with their comfortingly contemporary bathroom facilities and extensive gardens with swimming pool, croquet and a period potager, offer the perfect setting for a weekend of serious feasting.
Programme:
DAY 1
-Arrival at about 5pm for a full English tea (Cucumber sandwiches,scones,cream and jam, cakes and biscuits.)
-Stroll around the gardens or boat trip around the moat
-Drinks in your room (plus an extra half bottle of champagne and handmade French chocs on request*)
-Dinner at a good quality French restaurant.
-Taxi back to the castle (not included in the price of the weekend).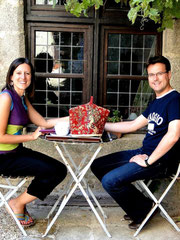 DAY 2
-Full English breakfast (eggs,bacon,sausage,mushrooms and tomato,home made preserves and French bread,served up until 10.am in the historic vaulted "Salles de Gardes"...or in the courtyard!.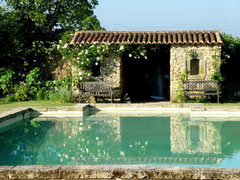 -Morning at the pool or exploring the castle
-Walk around historic St Loup
-Gourmet lunch at the Chapeau Rouge restaurant in St Loup (not included in the price)
-Visit of St Loup Chateau (Summer only)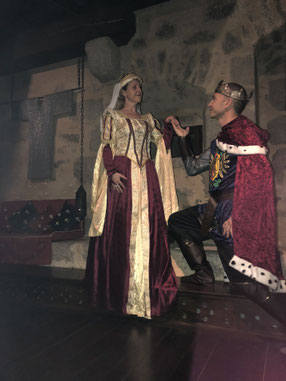 PRICE 2 people one night (excluding champagne and chocs):
  285€
*Champagne and handmade chocolates: 45 euros
 Lunch at the Chapeau Rouge restaurant: approx 30 euros per person
 Taxi back to the castle: 25-30 euros/
*Costume rental 30€ pp.
Things to do near the castle:
-Golf (30 mims)
-Paramotor gliding (20 mins)
-Seaside and La Rochelle (1hr)
-VIsit of The Futuroscope (50 mins)
-Day out at Puy du Fou historic theme park (1hr)
-Wine tasting at Chateau de Montreuil Bellay (40 mins)
-Riding