The Lady's Suite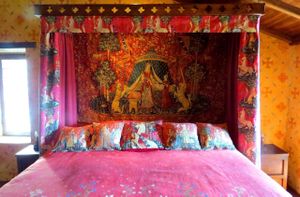 With its high wooden ceiling ,hand decorated walls and beautiful pannelled
wooden floor, the very lovely and totally unique Lady's Suite is situated up
a small spiral staircase on the second floor of the castle's West Tower.
A spectacular, hand carved oak balcony bearing the hand painted initials of
different "Seigneurs de Tennessus"', and reached by an internal oak
staircase,creates a second floor within the room,where there are two single
beds for two children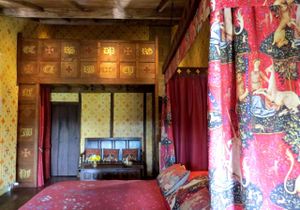 A huge double bed (which can also be made into two single beds) on the
lower level of the room provides comfortable accommodation for a couple.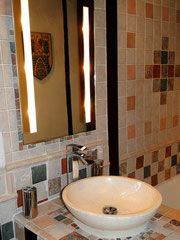 A beautifully tiled bathroom with bath, basin and wc is situated inside the
soom directly beneath its meszzanine.
While providing families with spacious accommodation, the Lady's Suite
maintains in its conception and decoration, an essentially XVth Century
feel.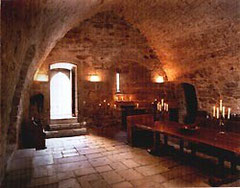 A full continental breakfast, including freshly baked breads and croissants,cereals, home made jams and preserves,creamy yoghurt and a variety of teas or coffee, is served in the historic, vaulted "Salle de gardes" or the newly opened medieval dining room on the ground floor of the castle.
  A full English breakfast can be ordered in advance (supplement 30 euros per couple).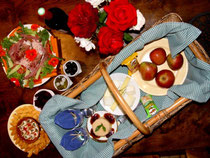 To fully appreciate your stay at the castle, order our gourmet Picnic Basket to be enjoyed either by candlelight in the medieval dining room, or anywhere in the tranquil gardens.
PRICE: 65€ ( 2 pers, including wine) 
PRICES (including breakfast and welcome drink)
130 Euros per night (2 pers).
155 Euros per night (3 pers).
180 Euros per night (4 pers).
Things to do
At the castle:
- Boating,
- Fishing,
- Swimming,
- Badminton ,
- Croquet,
- Ping pong,
- Hikes and walks. 
- Sketching (private lessons available)
Nearby:
Medieval Parthenay,historic villages with churches (Saint Loup  Airvault, Saint Jouin des Marnes),golf, riding, windsurfing.
The Futuroscope - Futuristic theme park (1 hr), Puy du Fou - historic theme park (1 hr), ballooning (1hr). the seaside (1.5 hrs), the Loire Valley and its castles (1hr-2hrs). Treetop assault course (45mins).
Further afield:
Rooms;