The King's Chamber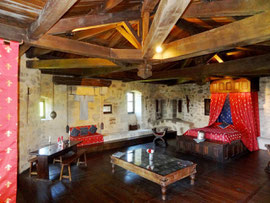 Situated at the very top of the XIV Century keep, the immense King's Chamber, with its magnificent beamed ceiling and original stone inner walkway is Tennessus' most spectacular bed and breakfast room.
The King's has arrow slits and canon holes on all four walls which offer extensive views over the surrounding countryside, while inside, hand crafted period furniture, including a panelled dais King sized bed and low table made from a XIII Century oriental door, together with numerous pieces of real arrmour make staying here a totally unique and historic experiance for either couples or families of up to four people,
- The King's Chamber has its own small vaulted bathroom, with wc, bath and shower attachment,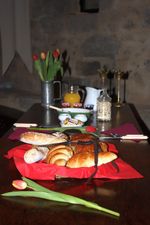 -. A full continental breakfast, including, cereals, croissants home made jams and fruit preserve served with a creamy yoghurt are taken in the room which has its own kitchenette in an internal turret.
"La chambre Royale est tout simplement magnifique, merci pour cette nuitée magique!" Nicolas et Chantal (Avril 2018).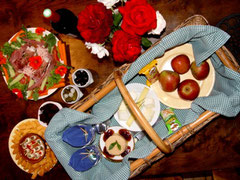 PRICES (including breakfast and welcome drink)
165 Euros per night (2 pers)
Things to do
At the castle
- Boating,
- Fishing,
- Swimming,
- Badminton ,
- Croquet,
- Ping pong,
- Hikes and walks. 
- Sketching (private lessons available)
Nearby
Medieval Parthenay,historic villages with churches (Saint Loup  Airvault, Saint Jouin des Marnes),golf, riding, windsurfing.
Further afield:
The Futuroscope - Futuristic theme park (1 hr), Puy du Fou - historic theme park (1 hr), ballooning (1hr). the seaside (1.5 hrs), the Loire Valley and its castles (1hr-2hrs). Treetop assault course (45mins).
Rooms: